Covid Compliance
The Government announcement on the 22nd February mean no real change for us until March 29th when restrictions are lifted and outdoor sports can resume. The Stay Home message and travel restrictions remain in place until then with the exception of a provision for outdoor recreation as well as exercise. Since angling has been deemed 'permissible exercise' throughout lockdown this is unlikely to affect us. The Government has confirmed that fishing will be permitted during the third national lockdown in England.
"fishing is allowed as exercise so long as participants adhere to the rules on staying local, gathering limits, social distancing and limiting the time spent outdoors"
This has also been confirmed by DEFRA:
"Cabinet Office have now officially confirmed that angling / fishing (incl. sea fishing off private boats, water sports) can be considered exercise and are hence permitted."
Please bear in mind these key points:
This is a strictly limited resumption of LOCAL fishing and very different to how we have been allowed to operate since May.
We are in a National Lockdown and this must be respected. The law requires a 'reasonable excuse' to leave your home or penalties will apply.
The Government has recognised that fishing can be seen as exercise, which is expressly permitted under the lockdown rules, although outdoor recreation is not.
Organised sporting gatherings are prohibited so no match fishing.
The exercise is limited to once a day so no overnight fishing whatsoever.
To remain within the law you should follow the Government's guidance, and only fish locally. If you have no local fishing available then you will have to take your daily exercise in other ways. 
Full Government guidance on travel can be found here https://www.gov.uk/guidance/national-lockdown-stay-at-home#travel
We are once again able to enjoy the sport we love at a time when many others cannot and we must ensure that every angler adheres to the rules.
Risk Assessment and Info
The below risks identified may be present around any site containing water and woodland and as such should not be deemed as all-encompassing and therefore do not cover every possible risk. Each person should take care when undertaking any activity around water and shall be responsible for their own health and safety and that of their own children.
Grass banks around water's edge which can become slippery if wet
Wooden decking can become slippery if wet
Steep lake banks
Possible sharp edges from trees and reed beds around lake edge
Adder snakes can be found in any woodland areas therefore care should be taken if walking or crawling within such areas.
Recycling: there are three different bins provided:
Bin 1: GLASS CANS/TINS
Bin 2: PLASTIC BOTTLES/CONTAINERS CARDBOARD
Bin 3: GENERAL/FOOD WASTE IN BIN LINERS. Do not put waste into bin 3 without a bin liner.
We wish to recycle as much as possible so please ensure you put rubbish in the right bins.
Weather can change very quickly at the lake, at the first sign of a thunder storm it is compulsory to remove all rods from the water.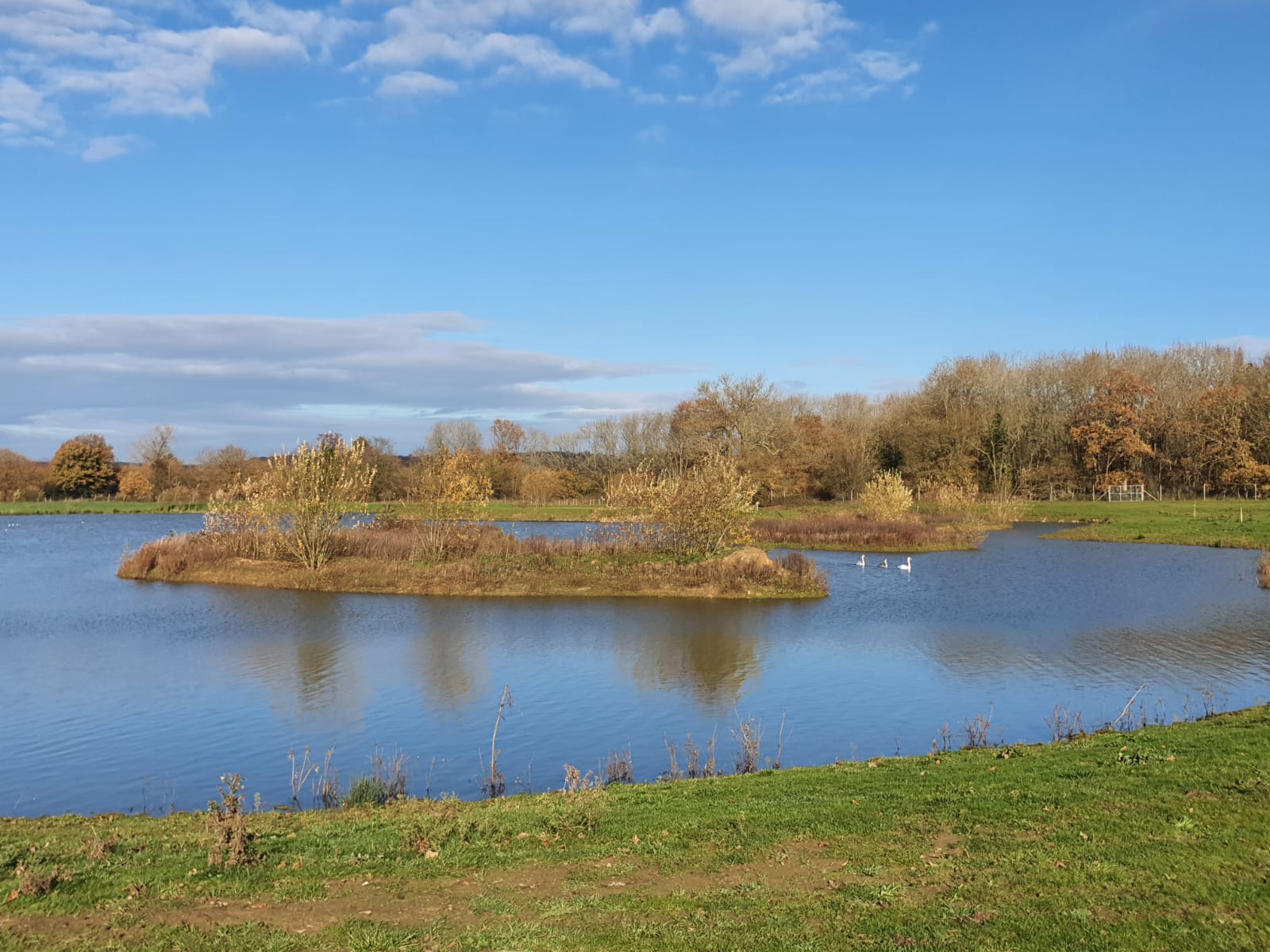 © Redlands Farm Fishery 2021-22. All rights reserved.